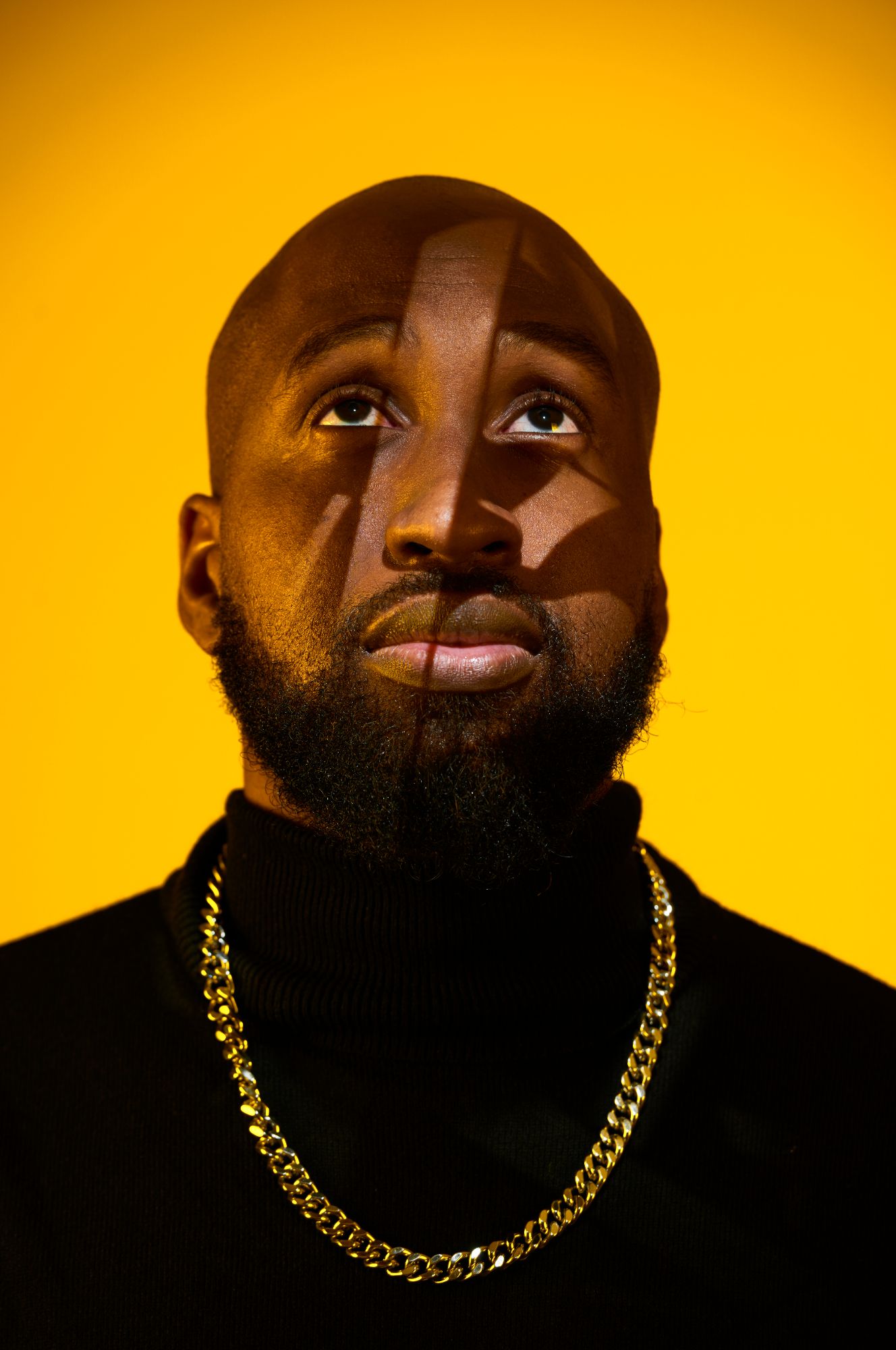 Born Kevin Renard Posey Jr. In Midwest City, Oklahoma to parents Sheila and Kevin Renard Posey Sr. November 8th, 1987, Posey grew up listening to a variety of music influenced by his parents. With a growing curiosity of sound, Posey would mentally deconstruct songs that played in the house and on the radio to figure out how they were constructed. At age 4, Posey fell in love with playing the keyboard. His father taught him how to freestyle rap around the age of 5. With these skills, Posey continued to practice and build his craft for rapping and creating sounds.
 Posey attended US Grant High School and graduated from Santa Fe South High School in 2006. From 2010-2012, Posey attended the Academy of Contemporary Music at the University of Oklahoma and received a degree in Music Production. During this time he developed his sound and begin producing for local artists as well as for himself.
  In 2012 Posey released his first music video via YouTube titled The Lady in Purple[1]. He began working on music videos for CD-released songs with film director Jonathan Shahan and film producer Cait Brasel. Posey released his debut album on streaming services Oct 2015 titled Fall in Love which he wrote, produced, composed, arranged mixed, and mastered himself. The sonics in the album was inspired by love that had been missing in Posey's life and from the love he understood from his own experiences. This album featured a fictional band named RoBotZ. RoBotZ was created via vocoder and synth sounds on Posey's microkorg XL synthesizer.
With the success of his first album, Posey begin producing and co-writing with artists like Chozxn, Philip Lawrence, and Tom Enzy. From 2016-2020, Posey released singles for himself and with others.
In 2019, Posey performed live throughout New Zealand with artists such as Mazbou Q, Phodiso, Techniclr, Kings, Scizzorhands, Kenny Slade and many more. Most of the shows had a live band to play and perform along with him. Posey and Mazbou Q co-created a live jam session event called The Loft. This event was to bring together musicians in Auckland City for 3 hours of continuous improv jams and tunes on the fly. This brought a big sense of community in the music world within the city.
Posey's sophomore album titled BREATHE[1][2] released June 2020 was an international blend of sonics and talent. Posey recorded most of the album in New Zealand and finished the rest in Oklahoma during the pandemic. Releasing singles like Show Out and Your Shine brought a greater nuance of what the album had to offer. This album featured some of New Zealand's buzzing and brightest artists from the likes of Mazbou Q, Scizzorhands, Jackson and Kédu. "Breathe is a reminder to slow down, to ease away from unwanted pressure. This album was a written letter to me to help me get through things I was and am facing today"says Posey. The second single off of the album became the number 1 song on the NYE countdown at AMR radio in Melbourne Australia.
In 2020 Posey released a single with rising star out of New Zealand and rising star from the states Chozxn to bring a hot single titled (How to do it). The single recently hit no. 16 on the iTunes top 200 hip hop charts.
Early 2020 Posey teamed up with New Zealand's own Scizzorhands the DJ to create a joint EP and duo group IRON FLOWERZ. The project featured artists like Chozxn, Bella Shanti and Mazbou Q. "This EP gave me a chance just to be an MC rather than to produce. It was the push I needed to gear my mind for my follow up album" Posey says. All beats were produced by Scizzorhands. Posey and Scizzorhands mixed the songs and Posey mastered them. The EP was released the following year in 2021.
In 2021, Posey had been extremely busy with artist Chozxn as he produced an EP, singles and two albums for Chozxn whilst working on his solo projects, collaborations and sound design for a feature film titled Social Disturbance. During this time, Posey decided to try his hand at producing and directing music videos for Chozxn. The EP titled I'm Your Man was released early in the year 2021 and the other two albums The Recipe Vol. 2 and Wolfman released in the fall of 2021. Social Disturbance was released in the fall of 2021 and is streaming on Tubi. Posey took a stab at releasing an original score EP titled The Story of Francis[3] in October 2021. "Classical and film score music is my favorite music to compose," Posey says. The tone and texture of this EP was musically crafted and short. Posey plans to create an ongoing musical series with The Story of Francis theme.
Posey also started producing for up-and-coming singer/songwriter, rapper Anastasiya. "She started recording with me at the end of July and by early October we finished her EP", says Posey. Her EP, titled Russian AK was released Fall 2021.
Posey is working on his 3rd album titled Yellow Roses. "This album is a complex nuance of vulnerabilities as an artists who has to paint with a paint brush that has all of its' bristles. With the way the world has been shook up as well as my life I must express my layers, my yellow rose", says Posey. A yellow rose is also a symbolism of friendship. "There are times I felt so closed off and standoffish to my friends, that wasn't my character nor friendly. Writing this album allowed me to dive into my pain and love. In that I found me, I found fun and joy in truth." Posey says. The color yellow is also represents joy and deceit. Posey's creative ways in music stem from colors and feeling. Yellow is the driving color yet multiple layers are present. This album will feature artists such as Chozxn, Anastasiya, Aubrey Trujillo and Douglas McDowell. Yellow Roses is set to drop in 2022.